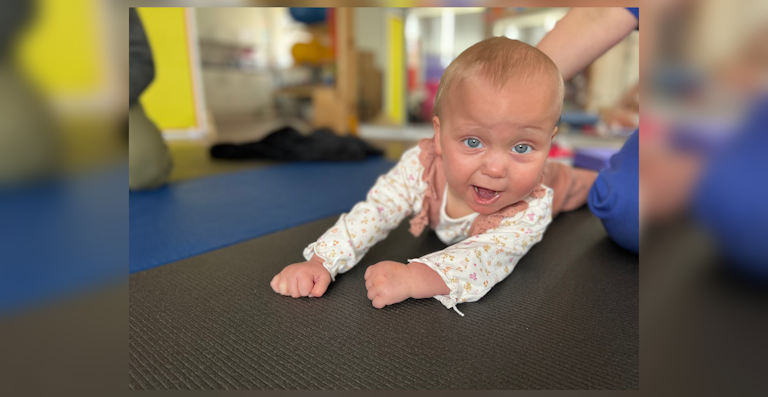 Stick 'n' Step partners with The Kentown Wizard Foundation to launch a new early intervention programme
06 November 2023
In partnership with The Kentown Wizard Foundation, we are thrilled to announce we are establishing a new early intervention programme. We will offer Conductive Education services to babies from six months of age, whose parents may be concerned about their physical development, for example not reaching their expected milestones. Early intervention when they are still babies increases the chance of improving their mobility as they grow older.
About 1 in 400 children in the UK are affected by cerebral palsy and it is the most common motor disability of childhood. Cerebral palsy causes challenges and barriers in daily life, ranging from struggling to walk, to getting dressed or feeding independently. In Conductive Education sessions at Stick 'n Step, children will work towards realistic personalised goals to become more mobile and learn key life skills, including dressing, self-feeding, transferring from a wheelchair to a chair/sofa, and fine motor skills, like picking up objects and using a pen.
The human brain has the ability to help a damaged central nervous system to recover, and this ability is strongest right after the injury occurs, which, in the case of cerebral palsy, is around the time of birth. The early months of babyhood are really important for brain development too, as that is when the foundations are laid for future learning, behaviour and health. That is why this early intervention is so important.
Local families can find out more about applying for the early intervention programme here. The first classes will begin in January at our Stick 'n' Step centres in Wallasey and Runcorn.
Sarah Smithson, Interim Chief Executive here at Stick 'n' Step says,
At Stick 'n' Step our aim is to empower children to fulfil their potential in terms of mobility, confidence and independence. Early intervention can be life-changing and thanks to the amazing support from The Kentown Wizard Foundation we will be able to help more babies and toddlers to overcome the challenges of living with cerebral palsy and other neurological disorders. We are thrilled to be working with The Kentown Wizard Foundation on this project which will transform lives and give every young child who joins us the best start in life.
Anna Twentyman, CFO of The Kentown Wizard Foundation says,
Stick n Step's Early Intervention Programme will provide vital support and therapy to children as young as six months old. Assessment by its team of conductive education therapists, at the earliest opportunity, will allow tailored guidance through a child's key development stages, giving them the best chance at an independent and fulfilled future. We are delighted to fund such an inspirational programme and we are confident that it will make a real difference to the children and families it serves.
Individuals or local businesses interested in supporting this exciting project should get in touch with Stick 'n' Step by emailing info@sticknstep.org.