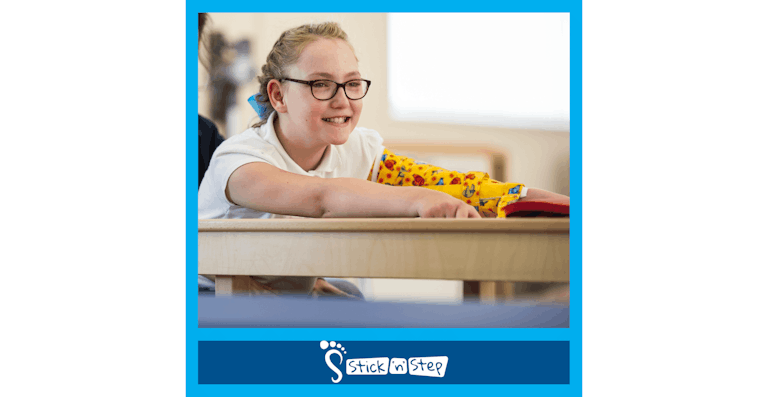 Meet our children - Heidi
Heidi started attending our Wallasey centre aged three.
Fourteen-year-old Heidi spends most of her time in a wheelchair but this hasn't affected her long-term ambition to be an actress. Opening our second centre in Runcorn in 2017 was a real bonus for her family, as living close by, they no longer had the expense or time commitment of making a 70-mile round trip to bring their daughter for her weekly session.
At school, Heidi spends all day in her wheelchair, so loves the freedom of being out of it at Stick 'n' Step whilst undertaking her CE sessions. Heidi is currently working on strengthening her trunk control to enable her to sit independently for longer periods of time and is learning to improve her hand/eye coordination, which will help develop her fine manipulation skills using both hands. She is also learning to design techniques to reduce involuntary movements and spasms.
Heidi has really improved her confidence and independence since coming to Stick 'n' Step and without the support and encouragement of the classroom team I am certain she wouldn't have had the courage to join a local drama school in 2017. She's already had a non-speaking part in a film shown on CBeebies. Ten years ago when I found the charity, I had never come across any other disabled children but through Stick 'n' Step I met other Mums with older children and I was able to see how well these children had done and the positive impact that Stick 'n' Step has had on their lives which gave me hope for Heidi's future. I was very protective of Heidi when she was younger but over the years Stick 'n' Step has helped me to feel that I could start trust other people with Heidi. In fact, Stick 'n' Step are like Heidi's second family.
Kirsty, Heidi's mum