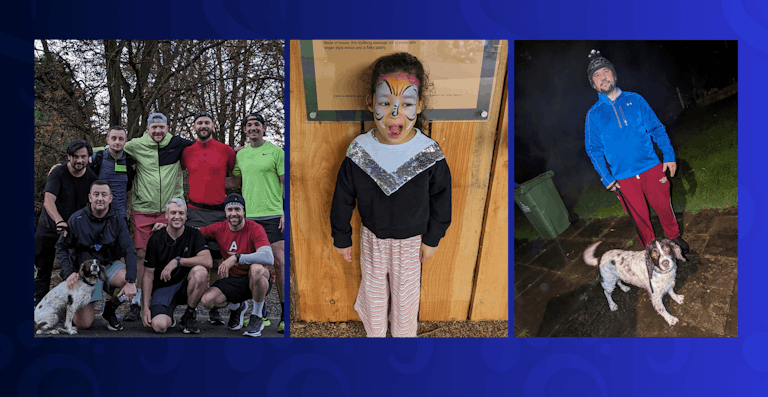 Zahara's Dad takes on 5k a day for 50 days challenge
23 October 2023
A local father has set himself the challenge of running five kilometres a day for 50 days, before he turns 50, to raise money for us. What's more, to boost his fundraising efforts, he has persuaded a different person to undertake the run with him every day, virtually, wherever they might be.

Simon Li, aged 49, who lives in Runcorn, is raising money by taking on the gruelling challenge, before he turns 50 next year. His daughter Zahara, who is five years old, attends weekly sessions at our centre in Runcorn.
Simon says,
"Zahara really doesn't like putting on her splints that she uses to help stabilise her joints but on Tuesdays, when she knows she's going to Stick 'n' Step, she looks forward to putting them on! She really enjoys her sessions at Stick 'n' Step's centre, where she's part of a group of children supporting and helping each other to reach their potential.

"I've been overwhelmed by the response to my request for other people to run with me – so far I've completed the run on nine consecutive days and I've had someone else running 'with' me virtually – either at their local gym, or round their park – on each of the days. I really appreciate the support and I hope to smash my target of £500. I've actually been oversubscribed and currently have 76 participants ranging from colleagues at Innospec, friends and members of a local running club called the Silverbacks who are based in Runcorn who encourage people to run to make a positive impact."
Simon's employer, Innospec, based in Ellesmere Port have a service called Innospec Cares, where it pledges to boost fundraising by agreeing to match fund whatever he raises. An application has been made for this.
To support Simon in his 50 x 5k challenge, please go to Simon Li is fundraising for Stick 'N' Step (justgiving.com). If you are interested in finding your own fundraising challenge, please go to https://www.sticknstep.org/do-your-own-fundraising/.