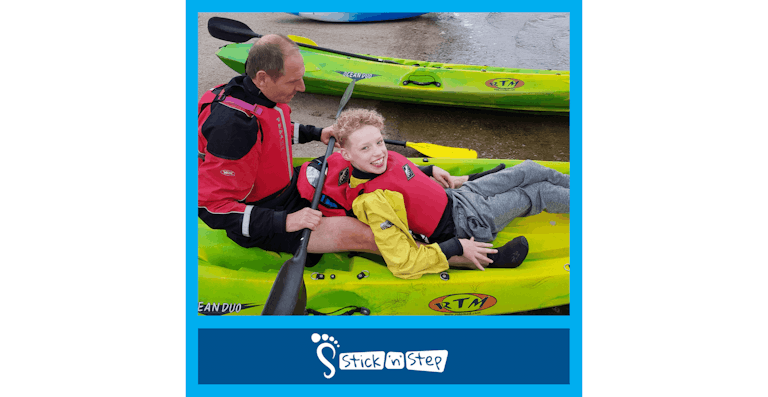 Meet our children - Harley
Sixteen-year-old Harley has been attending Stick 'n' Step for almost 12 years.
Harley was diagnosed with cerebral palsy aged 11 months after his parents, Jonny and Christina realised he was struggling to crawl due to his fist being clenched most of the time.
When Harley came for his initial assessment at Stick 'n' Step he was unable to sit up unaided and when asked what his initial expectations were from the CE programme his Dad said "I just hoped we would be able to get some further help towards strengthening Harley's muscles so that one day he might be able to become more mobile. The physiotherapy he was getting involved standard exercises but after talking to the team at Stick 'n' Step I realised the big difference here is that all the children work towards a personalised programme of activities to suit their own set of individual needs. I was also encouraged by the fact that I felt that CE would provide a better opportunity for Harley to improve his speech and communication skills". Harley never lets his disability affect his outlook on life, he is prepared to have a go at most things! He has already told his Dad he wants to start driving, get a car, have his own house and have children……Harley certainly is a very focused 16-year-old!
Stick 'n' Step has made a massive difference to all of our lives. Stick 'n' Step gave our family hope when we didn't have any. We felt lost walking away from the hospital that day without any support or a clear idea of how to cope. Stick 'n' Step has already proved that Harley can overcome some of the effects of his disabilities and I know they will continue to support him to achieve his goals, enabling him to reach his full potential and lead a full and happy life. The charity provided us with a vital support network when we needed it most and introduced us to other families who have become a whole new group of friends.
Johnny, Harley's dad