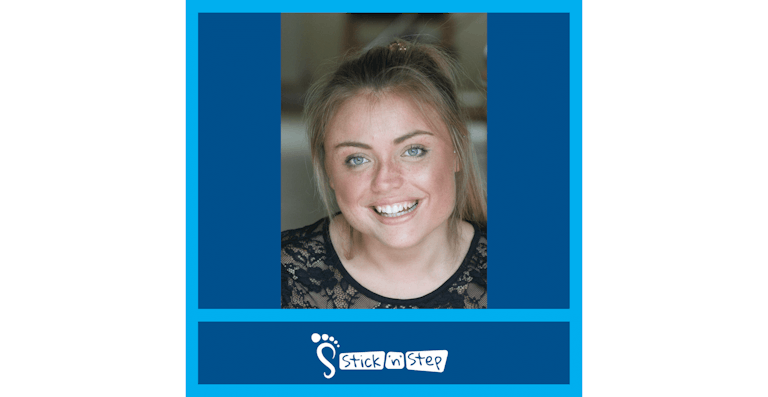 Meet our children - Ellen
"It's going to be a sad day when I leave Stick 'n' Step"
That's what 24 year old Ellen Garner said recently to the classroom team at Stick 'n' Step's centre in Wallasey, Wirral. Ellen, who has cerebral palsy and lives in Southport, has been attending conductive education sessions since she was three years old. She turns 25 in July and because the charity works with young people up to age 25, Ellen will be 'graduating' at the end of the 2022 Summer term.
"My Mum was one of the original helpers when the charity was first set up and she helped to establish the original sessions which were held in a church hall in Rock Ferry before the charity acquired premises in Wallasey. They then set up a specialist centre which now supports 53 children and young people through the provision of free weekly conductive education sessions." Ellen said. Stick 'n' Step opened their second centre in Runcorn in 2017 where they support a further 58 children every week during term time.
Ellen says that coming to Stick 'n' Step has really helped her over the years with improving her balance and strengthening her legs. Most of Ellen's day to day life is spent in a wheelchair and learning to improve her posture and improve her core strength through the activity-based sessions at Stick 'n' Step has helped her both physically and mentally. She added "I am now a very positive person and am not somebody who will say 'I can't do that' – I will always try to find a way to achieve my goals. Coming to Stick 'n' Step has helped to improve my confidence and independence, and I am a sociable person who enjoys shopping, going to the gym and meeting friends for a drink or a meal. I meet regularly outside of Stick 'n' Step with three of the girls in my Saturday morning group, and we all support each other emotionally. We have known each other a long time and it will definitely be a sad day when I leave Stick 'n' Step but I feel sure that we will remain good friends even after we have left."
Mum Kay said "Ellen was born 3 months prematurely and was diagnosed with cerebral palsy at 2 years old - After Ellen started at Stick 'n' Step I remember the first milestone she achieved was the ability to roll over independently".
Ellen's family own a Fish and Chip shop in Southport and have a collecting tin on the counter and they've managed to collect over £1100 in loose change from customers over the past three years which is very much appreciated by the fundraising team at Stick 'n' Step. This has funded several group sessions for children and young people, enabling them to practise learning new skills which can help them to lead a more independent life. The charity receives no statutory income and needs to raise all the money they need to provide their services through a range of fundraising activities.
Everybody at Stick 'n' Stick was delighted to learn that Ellen received a first-class honours degree in Child Health and Wellbeing at Edge Hill University in 2019. Although she has done some volunteering at several organisations since then, Ellen is still looking for paid employment. "I've had lots of interviews but have not yet been successful in securing a position and sadly I feel that my disability has been the main reason for this. A lot of people aren't able to see past the wheelchair. I just want to live a 'normal' life. I go to the gym and have a personal trainer twice a week. He plans my sessions to take into account my disability and I am now able to do unassisted squats. Although cerebral palsy affects my balance, I get a real sense of achievement following a gym session with my personal trainer or after completing a session at Stick 'n' Step. As well as the activity-based sessions we do in the classroom at Stick 'n' Step we also get the opportunity to practice independence skills including cooking, washing up, ironing, using the washing machine etc which we all really enjoy.
Ellen admitted that she struggled mentally during lockdown. She said "I like structure, and I really missed being able to get to Stick 'n' Step every week. The classroom team did organise sessions on Zoom for us to take part in and set up quizzes and other social activities to keep us all connected, but I was really pleased to be able to get back to my Saturday morning sessions and the physical activity which helps reduce the stiffness in my legs. The classroom team at Stick 'n' Step have been part of my life now for so long, and have all really helped improve my mobility, confidence and independence over the years and I want to say a big 'Thank You' to everybody for their support. You are all superstars!"